 Vegetarisch genieten bij Sham Maza
100% vegetarisch in Amsterdam West
Vegetarische keuken Sham Maza
Veel plekken op aarde zijn door vegetariërs lastig te bezoeken en, normaal gesproken, is het Midden Oosten daarop geen uitzondering. Behalve dan Syrië. Hier serveert men wat beter bekend staat als de Levantijnse keuken (Bilad al-Sham in het Arabisch). De keuken wordt gekenmerkt door de 'meze', kleine vegetarische gerechtjes waaronder de succesnummers: hummus, tabbouleh en baba ganoush. Bij Sham Maza kunt u terecht voor een ongekende variëteit aan vegetarische gerechten vanuit deze eeuwenoude traditie. Laat u vooral eens verrassen en kom langs bij ons nieuw geopende restaurant aan de Jan Evertsenstraat 69 in Amsterdam. U kunt hier ook afhalen of laten bezorgen. Verderop op deze website vind u ook informatie over onze befaamde catering service. Veel tevreden klanten kozen al voor een originele aankleding van hun feest, trouwerij en zakenlunch.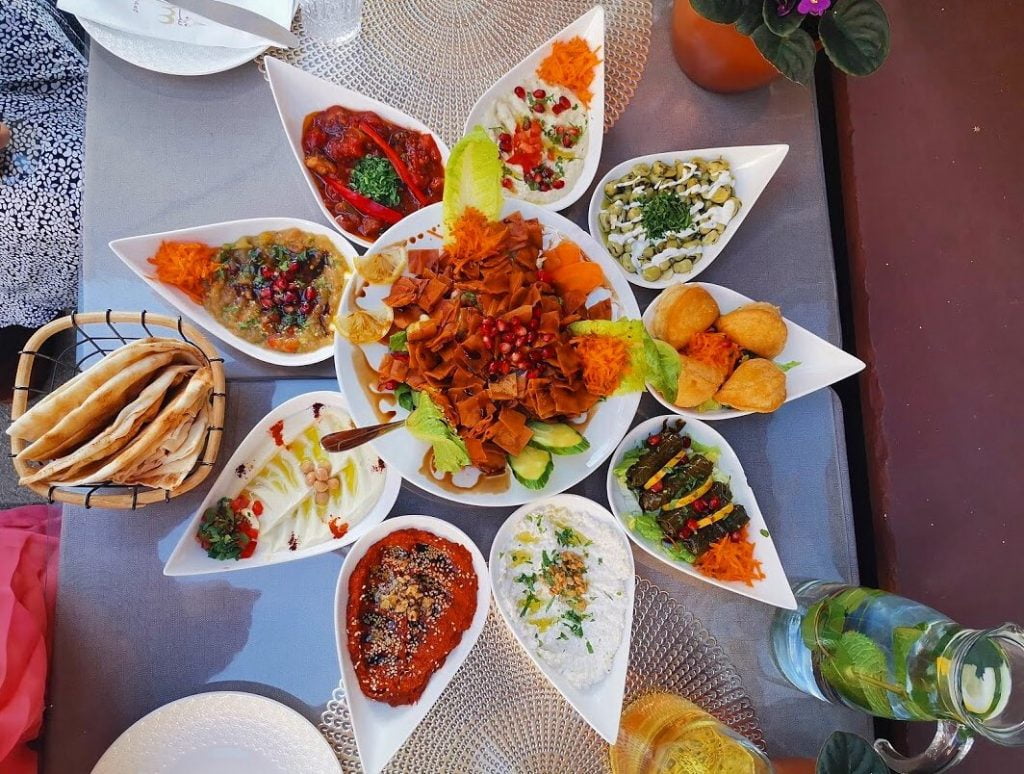 Tombé par hasard sur ce petit restaurant syrien caché. Il est magnifique et tout est délicieux. Les serveurs sont très prévenants et gentils. A refaire
Incredible flavourful food - I'll definitely be back. Highly highly recommended
Heerlijke Syrische lunch met mezelf en lamsvlees als hoofdgerecht. Jammer dat het restaurant zo koud was.
hermanna prinsen
2023-03-04
Vanavond met mijn jarige moeder, zus en haar man gegeten bij Sham Oost. Heerlijk eten, veel vegetarische optisch en wat een enorm servicegerichte en vriendelijke bediening. Een enorme aanrader!!
Margot Van Der Voort
2023-02-26
Heerlijk eten in een informele sfeer! Wij waren er 2x van 18.00- 22.00 uur, rond uurtje of 21.00 werd er een heerlijke beat gedraaid, voelde beetje als uitgaan. Bediening top en gastvrij!

Ottima esperienza Locale grande ma non dispersivo, consigliata comunque la prenotazione perché spesso pieno anche nel corso della settimana. Ottimo cibo e porzioni abbondanti. Personale gentilissimo e ottimo servizio. Prezzi nella media di Amsterdam. Tornerei volentieri e lo consiglio vivamente!
Supervers en uitstekende prijs/kwaliteit Supervers eten, zeer uiteenlopende smaken en de eigenaar is een uitermate prettige gastheer. Prima prijs kwaliteit verhouding. Als men het brood direct vers zou bakken, dan is het helemaal top.
Authentic cuisine Excellent, authentic food and warm hospitality! They generally don't accept credit cards though so I had to look for an ATM. When I returned unsuccessfully, they did manage to find a card reader. I minussed 1 star only for the inconvenience of my post-dinner hunt.
Hidden gem, go there's This is an authentic and hospitable restaurant. Really nice service, good food, great wine (Lebanon is an outstanding wine producer). My daughter and I had a great time there and fully recommend this venue. Go there, even if it's a bit outside the center city.
Aanrader Op uitnodiging hier gegeten: met vijf personen namen we de gecombineerde mezzeh en daarna enkele hoofdgerechten. Alles was heel vers en uitstekend toebereid. Vriendelijke bediening. We gaan hier terugkomen!
Absolutely amazing food Our first time trying Syrian food, and decided to make a reservation after reading great reviews on Trip Advisor. The sampling menu for the two of us was ample and packed with flavors. The restaurant was a bit hard to find and not centrally located; however, definitely worth the travel. Everything Was fresh and delicious. Towards the end of our meal , a black and white cat stealthily walked across the dining room and snuck out of the front door as guests were entering. Couple of restaurant staff swiftly went out and retrieve the cat and brought it back. The look on the cat's face of being caught, restrained and brought back is priceless, ha ha. We were told the adorable cat's name is Sham.
Eten bij Sham oost Heerlijk gegeten, ondanks drukte in het restaurant werden we goed en vlot bediend, telkens gevraagd of alles in orde was. Het eten was ontzettend lekker, goede smaken, verschillende smaken, houtskoolsmaak goed te proeven bij eten waar het hoort. Heel vriendelijke bediening. We komen terug!!!
Evening meal I really loved this restaurant. The staff were very friendly and helpful. The food was excellent. A real treat.
Delicious Syrian cuisine! A small restaurant that gets easily overlooked. They serve a range of Syrian/Lebanese dishes. Food quality was amazing! Probably the best levantine food i had in ages. I ordered the mixed grill which came with small plates of pilaf, hummus, muttabal and fattoush salad. All equally tasty. The three shaslicks were served in their sticks, which makes the experience better. Syrian coffee was served with a piece of baklava and the cezve (coffeepot). Service provided by the staff was very friendly and helpful. Highly recommend!
Heerlijk eten!! Fantastisch service We hebben vanavond voor het eerst het Syrische restaurant geprobeerd. We zijn allen wel gek op gegrilde vleesgerechten. In het begin hebben wij een uitgebreid uitleg gehad over de mogelijkheden en daarna makkelijk een keuze kunnen maken. Oooo het was toch heeeerlijk. Ik had een kipgerecht met limoen en knoflook saus besteld. Door de gastheer een verfrissende limoen/munt drankje erbij gekregen wat de combinatie compleet maakte. En tot slot verast met gevulde dadelkoek en een Syrische kopje thee erbij.Vooral de service is top hier !! Echt een aanrader en voor herhaling vatbaar !
Jan evertsenstraat 69H
Amsterdam
020 354 3164
maza@restaurantsham.nl
Maandag.   11:00 – 20:00
Dinsdag      11:00 – 20:00
Woensdag   11:00 – 20:00
Donderdag 11:00 – 20:00
Vrijdag        11:00 – 20:00
Zaterdag.    11:00 – 20:00
Zondag        11:00 – 20:00